Asian Snacks, Japanese Snacks, Korean Snacks & more
Irvins Salted Egg, Japanese Snacks Australia Wide Delivery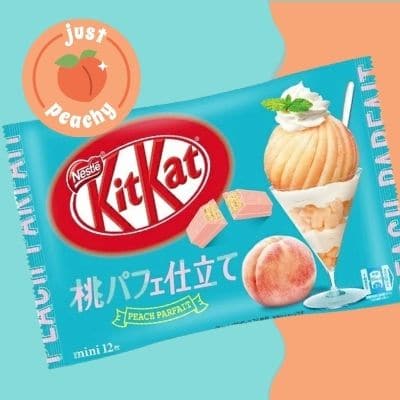 Kit Kat Peach Parfait is a recreation of a popular Japanese Kit kat flavour that was introduced years ago. Back by popular demand, Japanese Kit Kat Peach Parfait is a perfect blend of two dreamy sweet treats - peach and vanilla ice cream. This Japanese Kit kat flavour has a strong peach aroma and taste. White chocolate is infused with Japanese peach juice for a fruity and refreshing treat.
Irvins Salted Egg Fish Skin is the most popular snack of Singapore. Add to cart and grab it before it runs out of stock. Pssst... wanna get your fix of Singapore's famous salted egg potato chips? This is one product which took Singapore by storm. When it was first opened in Singapore, it generated huge crowds and long queue for its quintessential salted egg taste. Who would have thought that salted egg, an ingredient used for culinary purposes, would blend in so well with potato chips and fish skin. The introduction of this snack started a salted egg craze in Singapore!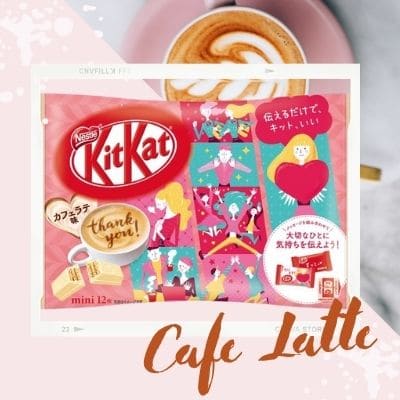 Japanese Kit Kat Cafe Latte is a a limited edition Kit Kat flavour. Indulge in a rich coffe aroma with each bite of these crunchy wafers coated with creamy latte chocolate. Each individual Kitkat has an uplifting and encouraging message. Sweet, creamy and strong in coffee aroma, this Japanese kit kat flavour is bound to be a big hit.
Prima Singapore Curry
Traders and immigrants during the early days of Singapore brought curry from India. As a result of the cross-cultural influences thriving in this multi-racial society, many versions and styles of cooking this dish have evolved. The Singapore Curry boasts a smooth rich gravy infused with coconut milk and a delightful aroma that will surely whet your appetite! Cooking Method:
1. In a pot, add Singapore Curry Paste into 400 ml of water. Stir well and bring to boil on high heat, stirring occasionally. 2. Add chicken and potatoes, stir well and bring to boil. Lower heat, cover pot and simmer for 10 mins on medium heat. 3. In a separate bowl, stir Singapore Curry Premix into 260 ml water. Mix well and add to pot. Simmer for 7 mins on low heat. Do not cover the pot. Stir occasionally and ensure that the gravy does not boil. Serve Singapore Curry hot with rice or crusty bread.
Thailand Thaya Crispy Durian Sticky Rice The product is made from premium quality Durian selected in Thailand. All Natural 100% real fruit, no sugar, no color, or preservatives added. This freeze dried crispy Durian Sticky Rice is another interesting combination of delicious coconut sticky rice topped with Durian and we made it crunchy.
Myojo Chuka Zanmai Hot and Sour Ramen (Big) "Eirin (榮林)" is a well-established Chinese restaurant with over 60 years of history located in Akasaka, Tokyo, and is known as the birthplace of Sura Tanmen. "Sura-Tanmen (酸辣湯麺)", or Suratan-Men, is the noodles-added version of a traditional soup dish in Chinese cuisine "酸辣湯 (Suan La Tang)", which is referred to as "hot and sour soup" in English-speaking countries. Using vinegar, chili oil, and white pepper, Suan La Tang is literally spicy-hot and sour and is finished with beaten eggs in Japan, and so is the Japanese hot and sour soup noodle Suratan-Men. By the way, "酸 (Su)" is the word for sour, "辣 (Ra)": pungent or spicy, "湯 (Tan)": hot water or soup, and "麺 (Men)": noodles
My family love Japanese instant Ramen noodles from Snack Affair, especially the Marutai brand, our favourite.
The noodles were tasty and of high quality. Highly recommended.
We always received a little treat with our orders. Nice touch.
I am thinking about my next order!
Fast reliable shipping, on a flat rate with an extra free snack included
Very pleased with the order.
Couldn't be happier to have stocked up on Irvin's Salted Egg Chips and Fish Skin from Snack Affair. I've been missing it since we haven't been able to go overseas.
I'm so glad my order arrived quickly and safely just in time before Christmas
Thank you so much! I would highly recommend as they also sent a cute appreciation card and an extra snack on top of it
would highly recommend
Fast shipping! Love the snacks
I ordered three types of Japanese Ramen. Received the package with a hand-written greeting card and an extra snack. Absolutely superb service!
Recently got my Irvin's Fish Skin and Potato Chips… Fast delivery and will buy again!
Love to snack? Snackaholic? You can reach out to us at:
+61(0)415416107 (whatsapp)
For Delivery & Shipping Information, click here.