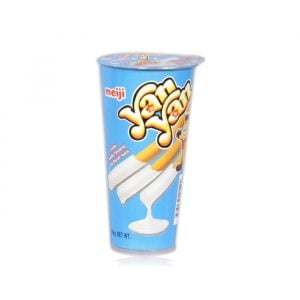 Is there anyone out there who scrimp and save on the dipping creme until you reach the last few sticks? Despite having Yan Yan for numerous times, I always can't get enough of the dipping creme. A simple but powerful combination to deliver that perfect mixture of crunchiness with smooth tasty creme. A snack that's fun to share but you would love it too much to share.
Calbee has introduced kabayaki eel flavour. Now customers can satisfy their urge for Eel without leaving home or cooking it. The delicate taste of Eel is further intensified with the crunch of Calbee's uneven corn stick texture. Do you remember have a food that blows your mind away? Calbee Grill-A-Corn does that to us. Calbee Grill-A-Corn is a must try if you love the taste of barbeque corn.
This is one of Korea's best selling candy, for a good reason! It has a fluffy texture of candy made by the aeration process. Made of fresh high-grade milk, they are so light and airy that seems like biting into a milkshake pillow! This candy comes in two flavours - Strawberry or Milk.