Koikeya Potato Chips (Smoked Bacon Cheese)
$4.95
The Koikeya Craft Potato Chips
The combination of smoked blended cheese and bacon powders in these crunchy corn snacks! This variant comes in a high-end craft paper-like packaging as it's a special release for Spring 2020.
10 in stock
YOU MAY LIKE THESE TOO ...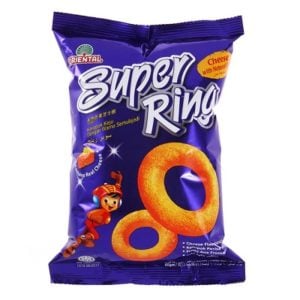 Rated 5.00 out of 5
$

3.50
If you come from Malaysia / Singapore, this would definitely be one of your childhood snacks. And if you're a child or a child at heart, the correct way to eat Super is by slipping a bright orange ring on each finger, admiring your bejewelled digits for a few minutes and then proceed to stuff each ring one by one into the mouth. Repeat this until the pack is empty and you'll be left with a thick coating of orange powder at the tips of your fingers. You either scrape the well-earned powder with your teeth or suck your fingers like a treasured lollipop. To me, this is the best part of eating Super Ring.