Jack'n Jill Roller Coaster (Sweet & Spicy)
$3.95
Roll on the good times with tasty Roller Coaster Potato Rings! Now it is available in the every popular Sweet and Spicy Flavor. It is freshly packed in fun 'n trendy packaging, making it an ideal snack for all occasions.
28 in stock
YOU MAY LIKE THESE TOO ...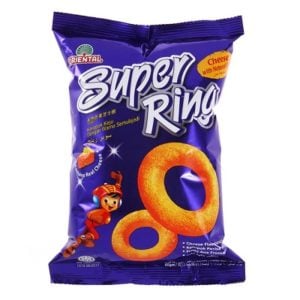 Rated 4.50 out of 5
$

3.50
If you come from Malaysia / Singapore, this would definitely be one of your childhood snacks. And if you're a child or a child at heart, the correct way to eat Super is by slipping a bright orange ring on each finger, admiring your bejewelled digits for a few minutes and then proceed to stuff each ring one by one into the mouth. Repeat this until the pack is empty and you'll be left with a thick coating of orange powder at the tips of your fingers. You either scrape the well-earned powder with your teeth or suck your fingers like a treasured lollipop. To me, this is the best part of eating Super Ring.