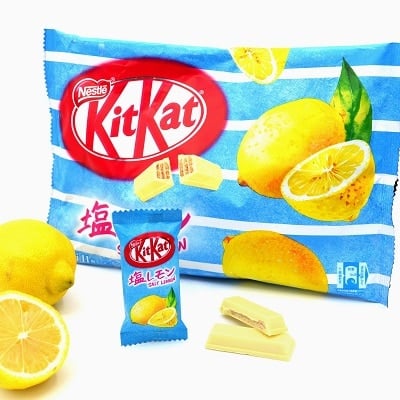 KitKat released new flavors for the summer months. Sea Salt and Lemon KitKat. Salt and lemon are a popular summer flavor combination in Japan and the region of Setouchi is famous for both. The salt is meant to replenish the salt you lose when sweating, while the lemon gives you a refreshing mouthfeel.
This yogurt KitKats is a new twist on the classic chocolate bar! The light yogurt flavor mixes with the cranberry and nut crumble on top form a pleasing aesthetic to the eyes and a wonderful taste that will leave you savaging for more.
Kit Kat Hojicha is a collaboration between Kit Kat and Itohkyuemon, an artisanal Kyoto Tea Maker since 1952! Handpicked Hojicha (roasted green tea) is layered into the chocolate which produces a delicious, roasted flavor.
Also known as winter yam, they are popular in the Japanese island of Kyushu for their flavour and vivid colour. This limited edition chocolate features its signature wafers covered in sweet potato-flavoured milk chocolate.
Matcha-flavored KitKat. The smooth, creamy milk chocolate totally complemented the taste and fragrance of Uji Green Tea but it is not as bitter. Eating this makes me feel like I am drinking Matcha latte!
KitKat luxury everyday selection is definitely worth the extra buck. This sophiscated natural berry snack has a generous topping of dried cranberries and roasted almond nuts that add to both texture and flavour. Make this sophisticated natural berry snack your daily treat and change your diet for the better. After all, why shouldn't chocolate taste great and also be good for you?
Ruby Chocolate KitKats are topped with cranberries and a variety of nuts. They come in mini KitKat bars, intended to be used as a small snack on the go, so that it can be enjoyed whenever and wherever. Making use of cranberries, nuts and ruby chocolate together form a pleasing aesthetic to the eyes and a wonderful taste that will leave you savaging for more.
My only idea of a Chestnut Snack was those that were roasted in coffee beans. It never fails to draw me in and buy a piping hot bag of them. But Chestnut in a KitKat?? I have my doubts as the best of Chestnut lies in the roasted taste of it. It is like Roasted Chicken over a Steam Chicken, I suppose? To a pleasant surprise, Chestnut in KitKat tastes really good. It was both nutty and delicious. The Chestnut taste is not overpowering but you can definitely taste it. The combination works even better with a crispy wafer texture!Yummy!!!
Nodding off at your desk? Indulge in the crispy and creamy delight of Pejoy Matcha Green Tea. It might not wake you up, but you'll feel a lot better about your day. And the Matcha Green Tea cream filling is encased in a crunchy biscuit shell, so you won't have to worry about a sticky keyboard. Pejoy Matcha Green Tea are the perfect compliment to your morning coffee, afternoon tea or your relaxing end-of-day indulgence.
Do you know where is Sibu and what Kampua noodles are ? Sibu is an inland town in the central region of Sarawak in Malaysia and Kampua noodles are specialty of Sibu. This noodles tasted surprisingly good! Plenty of flavour. So if you're far from home and missing some Kampua, try and grab a pack of these babies.
This durian shortcake is one of local's favourite for the combination of butter and durian paste that melts together in your mouth from the very first bite. A very filling snack but it will really help to curb your hunger pangs (in a most delicious way).
Just a tad spicy to keep you on your toes but not overwhelming. Whatever mood you are in, these sweet pieces of chewy, meaty goodness transport you to the seas, taking you away from the hustle and bustle of life. Sit back, chew on and enjoy goodness from the sea. Each packet contains 15 packets. Designed for sharing.
Bak-kut-teh (肉骨茶) is a Chinese soup popularly served in Malaysia and Singapore. It is a predominant Hoklo and Teochew community. The name literally translates as "meat bone tea".It consist of meaty pork ribs simmered in a complex broth of herbs and spices (including star anise, cinnamon, cloves, dang gui, fennel seeds and garlic) for hours. The flavor is very complex and hard to describe so it is a instant noodle that you definitely need to try.
My family love Japanese instant Ramen noodles from Snack Affair, especially the Marutai brand, our favourite.
The noodles were tasty and of high quality. Highly recommended.
We always received a little treat with our orders. Nice touch.
I am thinking about my next order!
would highly recommend
Fast shipping! Love the snacks
Fast reliable shipping, on a flat rate with an extra free snack included
Very pleased with the order.
Love to snack? Snackaholic? You can reach out to us at:
+61(0)46602123 (whatsapp)