Calbee Grill-a-Corn (Barbecue Flavour)
粟一烧燒烤味
$4.78
Do you remember have a food that blows your mind away? Calbee Grill-A-Corn does that to us. You would not expect a corn snack to literally taste like corn, but that is exactly what Calbee Grill-A-Corn taste like.
Like its name, you can now enjoy the ease of eating grill corn without having to go through the tedious process of chopping the corn into cob size and putting it on hotplate. What's better is that Calbee has introduced this Barbecue flavour. Slightly sweet and mildly salty, this Grill-A-Corn is extremely addictive.
YOU MAY LIKE THESE TOO ...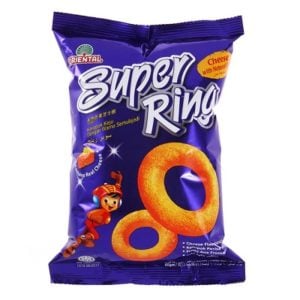 Rated 5.00 out of 5
$

3.50
If you come from Malaysia / Singapore, this would definitely be one of your childhood snacks. And if you're a child or a child at heart, the correct way to eat Super is by slipping a bright orange ring on each finger, admiring your bejewelled digits for a few minutes and then proceed to stuff each ring one by one into the mouth. Repeat this until the pack is empty and you'll be left with a thick coating of orange powder at the tips of your fingers. You either scrape the well-earned powder with your teeth or suck your fingers like a treasured lollipop. To me, this is the best part of eating Super Ring.