Orion Turtle Chip (Sweet Corn)
오리온 꼬북칩 콘스프맛
$6.95
Am I the only one who is attracted to this turtle chips like a bee to honey?
This Orion's turtle chips fly off the shelves and for a good reason. This product comes after 8 years of research and product development by Orion, as they bring texture trend to the snack industry. With 4 layers of crisps, you bite into one mouth and it is endless 'chomp chomp'. This version of turtle chips snack has a sweet taste to it which will remind you of corn soup!
14 in stock
YOU MAY LIKE THESE TOO ...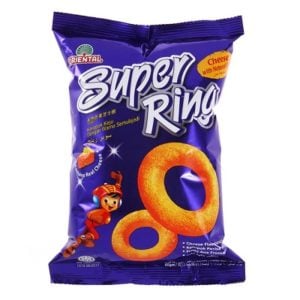 Rated 5.00 out of 5
$

3.50
If you come from Malaysia / Singapore, this would definitely be one of your childhood snacks. And if you're a child or a child at heart, the correct way to eat Super is by slipping a bright orange ring on each finger, admiring your bejewelled digits for a few minutes and then proceed to stuff each ring one by one into the mouth. Repeat this until the pack is empty and you'll be left with a thick coating of orange powder at the tips of your fingers. You either scrape the well-earned powder with your teeth or suck your fingers like a treasured lollipop. To me, this is the best part of eating Super Ring.